Assessment of the Global Fund Tuberculosis In-Country Advisors Project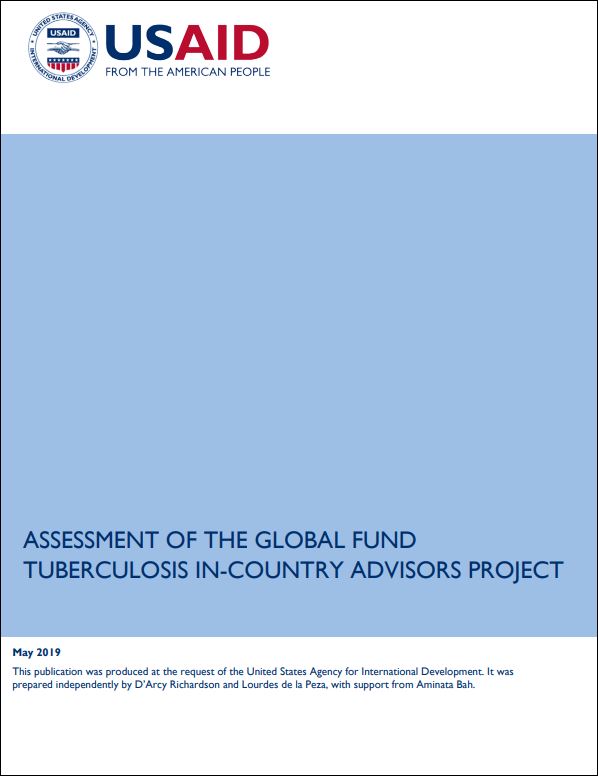 Abstract: GH Pro conducted an assessment of the USAID Global Fund In-Country Advisors Project, funded since 2013 with senior technical advisors embedded in national tuberculosis control programs, currently placed in 16 priority countries. The assessment used semi-structured interviews and online surveys of key stakeholders' groups, as well as a review of project documents and available Global Fund data to answer five assessment questions:

1. How effective is the Advisors Project in improving Global Fund grant implementation and addressing bottlenecks?
2. What other assistance has the advisor provided to strengthen the country's capacity towards TB control?
3. What factors have contributed to the success (or lack thereof) in accomplishing the project goals and what opportunities exist to increase USAID returns on investments in advisors?
4. What types of technical assistance and expertise will be needed in the next two years that are suitable for an advisor role?
5. What does a results framework to measure the effectiveness of advisors look like?

While contributions are difficult to quantify due to a lack of data, there is broad agreement among stakeholders that this one of the most cost-effective means of supporting national tuberculosis control programs (NTPs) on Global Fund and general TB control performance improvement and should be continued. A number of useful process improvements were suggested by stakeholders for consideration. The assessment concludes that embedded TB advisors are a key component of a multipronged strategy to help countries progress on the Journey to Self-Reliance, when coupled with efforts to address health system weaknesses that hamper sustainable progress.
Author(s): United States Agency for International Development
Year: 2018
Language: English
Resource Type: Reports
Source: United States Agency for International Development