Comparison of Survey Results to Evaluate the Availability, Readiness, and Quality of the Uganda Tuberculosis Diagnosis Network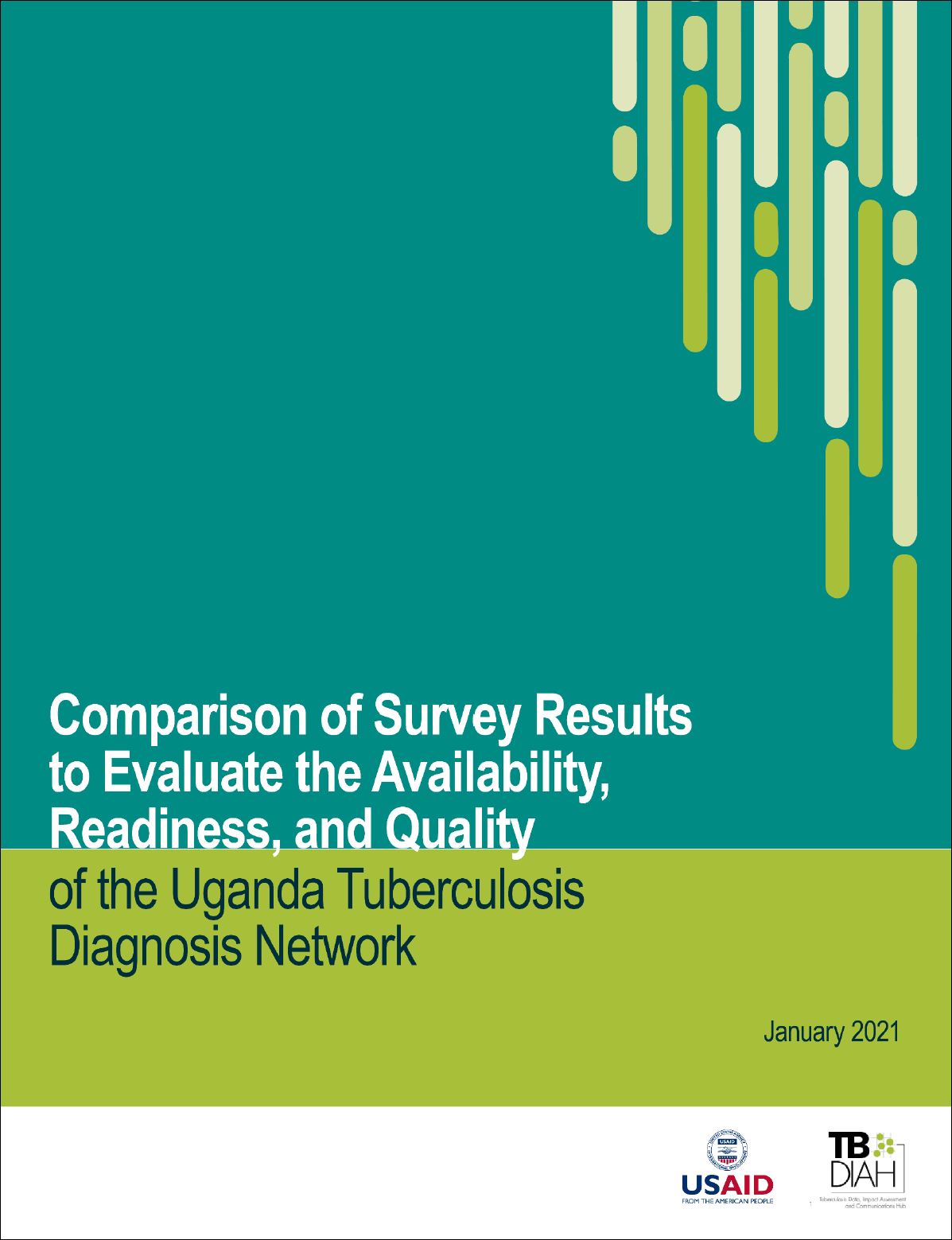 Abstract
: Diagnostic services are an essential component of TB treatment and prevention in high TB burden countries, and critical for achieving ambitious international goals for reducing TB morbidity and mortality. However, in most high burden settings, TB diagnostic services do not meet the needs of National TB Programs in terms of access, quality, and efficiency.
Strengthening TB diagnosis services is a priority for Nation TB Programs and their stakeholders, and tools and resources have recently become available to help understand how and where diagnosis systems are falling short. The TB Diagnostic Network Assessment (DNA) and the Quality of TB Services Assessment (QTSA) are two such tools. The DNA, developed by the Global Laboratory Initiative, compares the TB diagnostic network in a country with a set of standards based on international best practices for TB diagnosis. For each standard, "core capacities" and "components" are used to define essential features and functions of a national diagnosis network designed to detect, assess, notify, and respond to TB. Areas of the TB diagnostic network that fail to meet the standard would be targeted for strengthening. The QTSA is a health facility survey which measures the quality of TB service delivery, from screening and diagnosis through treatment and follow-up. While there are important methodological differences between the two surveys, the outputs are similar with regard to diagnostic services and the diagnostic network in countries. The similarities suggest that results from the two surveys could be combined to produce information on TB diagnosis system performance and capacity in countries that is synergistic, that is, greater than the either survey alone, or the sum of the two surveys.
This paper compares the DNA and QTSA in terms of the objectives, content, and results for the case of Uganda, a high burden TB country which has recently completed both surveys (2019). The paper attempts to describe the performance (i.e., availability and readiness) and quality of TB diagnosis services at health facilities in Uganda and investigates how data from QTSA surveys can be used to complement the National TB DNA. An in-depth understanding of the performance and quality of TB diagnosis in Uganda (and potentially other countries) will aid in the formulation of priority actions to improve TB diagnosis services.
Access QTSA resources at
https://www.tbdiah.org/assessments/quality-of-tuberculosis-services-assessments/
.
Shortname: tr-20-433
Author(s): TB DIAH
Year: 2021
Language: English
Region(s): UGANDA
Resource Type: Reports
Source: TB DIAH
Filed under:
assessement
,
Diagnosis
,
Diagnostics
,
Evaluation
,
National TB programs
,
network
,
Prevention
,
QTSA
,
Report
,
TB data
,
Treatment
,
Uganda