Counting on Us: An Analysis of the Roots of Variability in Mortality Among TB Patient Cohorts in Ethiopia, Ghana, Kenya, Mozambique and Zambia and its implications for Monitoring and Evaluation of TB/HIV Care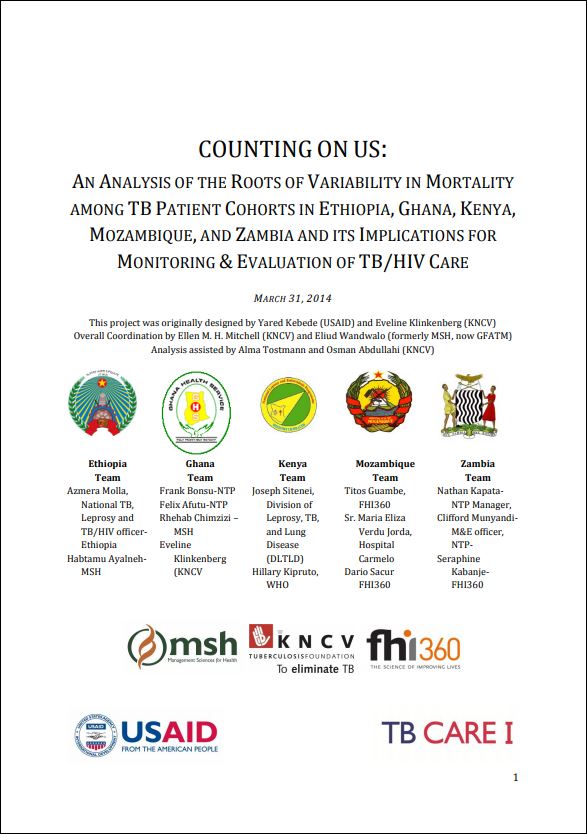 Citation: Mitchell, E. M.H., Wandwalo, E., Tostman, A., Verdu Jorda, M.E., Ayalneh, H., Afutu,F., Kipruto, Klinkenberg, E., Guambe, T., Abdullahi, O., Sacur, D., Bonsu, F., Kapata, N., Sitenei, J. and the TB/HIV Mortality Group. (2013) Counting on us: An analysis of the roots of variability in mortality among TB patient cohorts in Ethiopia, Ghana, Kenya, Mozambique, and Zambia and its implications for monitoring & evaluation of TB/HIV care. Technical Report. TB CARE I.
Abstract: This project employed a multi-method design to generate a broad understanding of the TB/HIV mortality M&E challenges. Data from a survey of M&E officers in 19 countries as well as an analysis of 24,049 TB records from surveillance systems in five African countries were triangulated to determine the accessibility, quality and utilization of TB patient mortality data for monitoring and evaluation purposes.
Author(s): TB Care I
Year: 2014
Language: English
Resource Type: Reports
Source: Challenge TB
Filed under:
Data quality
,
Ethiopia
,
Evaluation
,
Ghana
,
Kenya
,
M&E
,
Monitoring
,
Mortality
,
Mozambique
,
Report
,
Surveillance
,
TB and HIV
,
TB data
,
Zambia