Eastern Europe and Eurasia Region Center of Excellence in TB Monitoring & Evaluation and Surveillance: Regional Consultative Meeting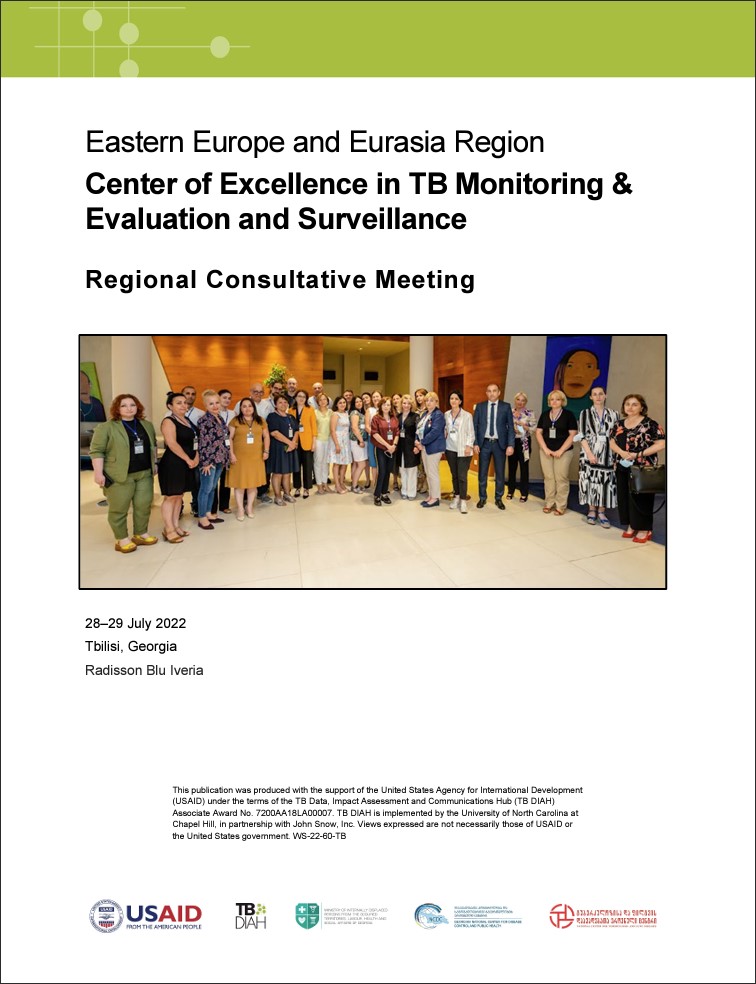 Abstract: The United States Agency for International Development (USAID) leads the U.S. Government's global efforts to end tuberculosis (TB). USAID's Global Accelerator to End TB is the Agency's new model to fight TB. Under the Accelerator, USAID funds the TB Data, Impact Assessment and Communications Hub (TB DIAH). TB DIAH aims to ensure optimal demand for and analysis of TB data and the appropriate use of such information to measure performance and to inform national TB programs (NTPs) and USAID interventions and policies.

Establishing a Center of Excellence (COE) in TB monitoring and evaluation (M&E) and surveillance is one of TB DIAH's strategic approaches to strengthen the capacity of NTPs and other TB partner staff in data management, collection, quality, analysis, and visualization and to promote ownership and use of the TB surveillance system.

The Eastern Europe and Eurasia regional COE was founded in May 2022 and is hosted by Georgia's National Center for Disease Control and Public Health (NCDC) in collaboration with the country's National Center for Tuberculosis and Lung Diseases (NCTLD). The COE's primary purpose is to help improve countries' TB data reporting, communication, and sharing for effective decision making. The COE will serve as a model for other countries in the region and will be the hub for TB DIAH support in the region to ensure synergy, sustainability, and effective use of resources.

To catalyze country engagement in COE activities, TB DIAH organized a Regional Consultative Meeting in partnership with the NCDC and NCTLD. The report shares more on the meeting.
Shortname: wp-22-60-tb
Author(s): TB DIAH
Year: 2022
Language: English
Resource Type: Reports
Source: TB DIAH