EEE Regional TB M&E Training of Trainers Report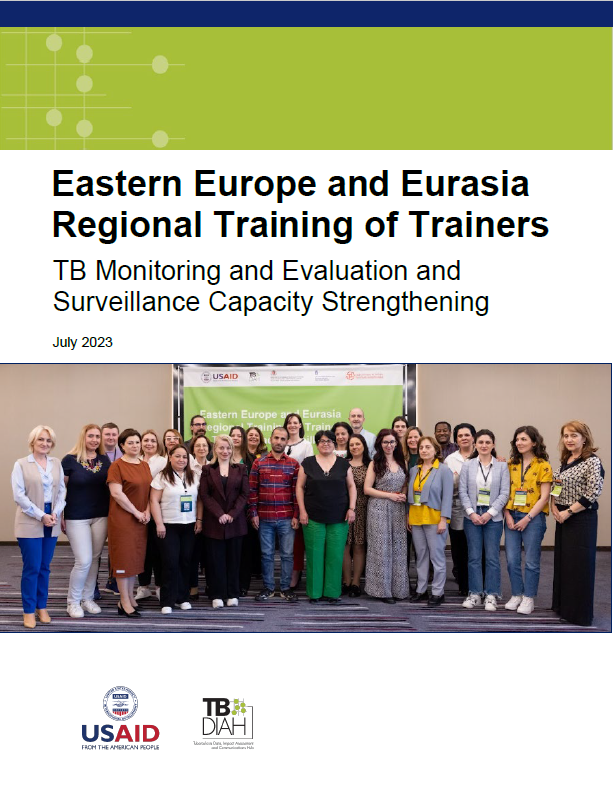 Citation: Eastern Europe and Eurasia Regional Training of Trainers: TB Monitoring and Evaluation and Surveillance Capacity Strengthening. May 2023. TB DIAH, University of North Carolina at Chapel Hill.
Abstract: The overall purpose of the Regional Training of Trainers (ToT) in TB M&E and Surveillance was to provide a foundation for critically reviewing, understanding, and using routine TB surveillance data through the practical examples of analysis, interpretation, and visualization of the data at sub-national and national levels.

The objective of the ToT was to build the capacity of NTP staff by training a cadre of master trainers on data collection, reporting, analysis, visualization, and use to improve TB surveillance and program management. The expected output of the ToT was to have trained up to 20 master trainers from the EEE countries so that they are competent in TB M&E and surveillance and able to deliver tailored training programs in their respective countries.

The five-day in-person training was held in Tbilisi, Georgia, May 1–5, 2023. The NTP representatives and affiliated professionals with M&E, surveillance, and TB program management backgrounds from Armenia, Georgia, Moldova, and Ukraine attended a mix of lectures, presentations, and individual and group activities. The ToT was facilitated by Alexander Asatiani, TB DIAH's Senior TB M&E Consultant for the EEE Region.

The expectation was that in their capacity as master trainers, participants would play a significant role in strengthening the M&E capacity of NTPs by facilitating and delivering country-level follow-up trainings with TB DIAH's ongoing support. On the last day of the event, country teams worked on customized national training plans, which was another important output of the regional ToT.
Shortname: SR-23-185 TB
Author(s): TB DIAH
Year: 2023
Language: English
Region(s): ARMENIA, AZERBAIJAN, GEORGIA, MOLDOVA, REPUBLIC OF, UKRAINE
Resource Type: Reports
Source: TB DIAH
Filed under:
capacity
,
capacity strengthening
,
Eastern Europe
,
EEE
,
EEE region
,
eurasia
,
Evaluation
,
Monitoring
,
regional
,
Report
,
Surveillance
,
TB surveillance
,
TB training
,
Training
,
Training of trainers