First Use of Bedaquiline in Democratic Republic of Congo: Two Case Series of Pre Extensively Drug-Resistant Tuberculosis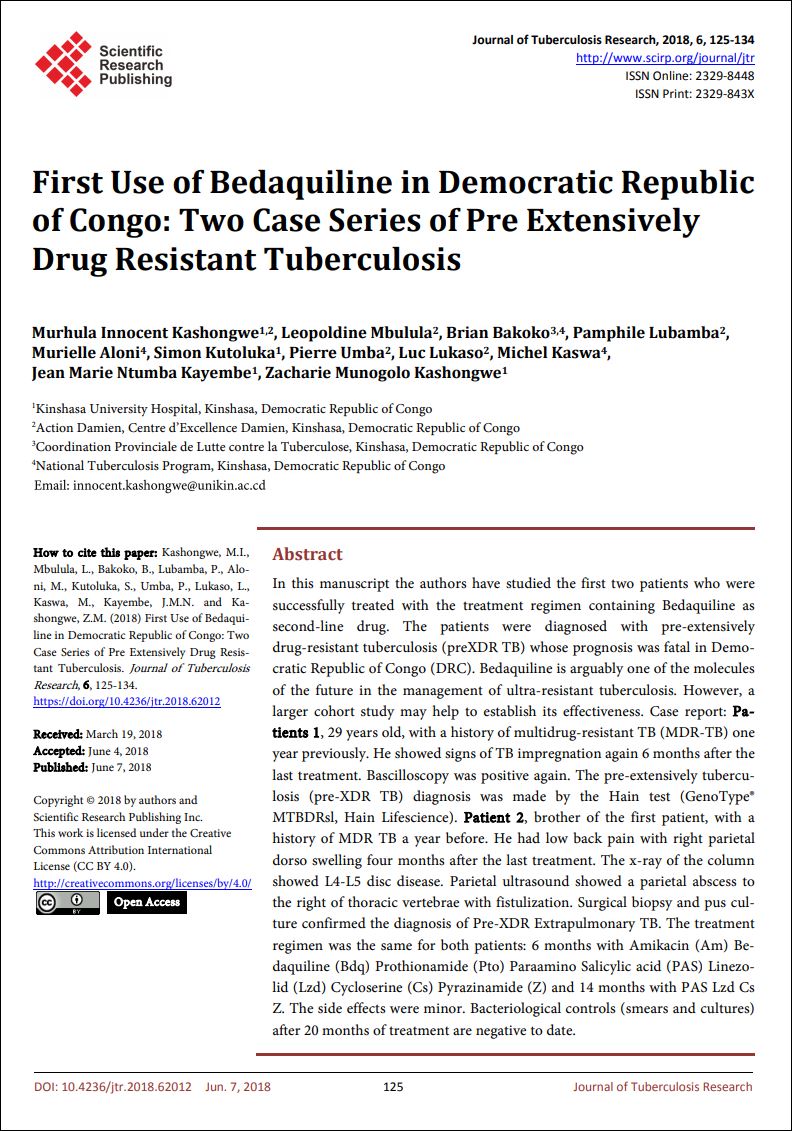 Citation
: Kashongwe, M.I., Mbulula, L., Bakoko, B., Lubamba, P., Aloni, M., Kutoluka, S., Umba, P., Lukaso, L., Kaswa, M., Kayembe, J.M.N. and Kashongwe, Z. (2018) First Use of Bedaquiline in Democratic Republic of Congo: Two Case Series of Pre Extensively Drug Resistant Tuberculosis. 
Journal of Tuberculosis Research
, 
6
, 125-134. doi: 
10.4236/jtr.2018.62012
.
Abstract: In this manuscript the authors have studied the first two patients who were successfully treated with the treatment regimen containing Bedaquiline as second-line drug. The patients were diagnosed with pre-extensively drug-resistant tuberculosis (preXDR TB) whose prognosis was fatal in Democratic Republic of Congo (DRC). Bedaquiline is arguably one of the molecules of the future in the management of ultra-resistant tuberculosis. However, a larger cohort study may help to establish its effectiveness. Case report: Patients 1, 29 years old, with a history of multidrug-resistant TB (MDR-TB) one year previously. He showed signs of TB impregnation again 6 months after the last treatment. Bascilloscopy was positive again. The pre-extensively tuberculosis (pre-XDR TB) diagnosis was made by the Hain test (GenoType® MTBDRsl, Hain Lifescience). Patient 2, brother of the first patient, with a history of MDR TB a year before. He had low back pain with right parietal dorso swelling four months after the last treatment. The x-ray of the column showed L4-L5 disc disease. Parietal ultrasound showed a parietal abscess to the right of thoracic vertebrae with fistulization. Surgical biopsy and pus culture confirmed the diagnosis of Pre-XDR Extrapulmonary TB. The treatment regimen was the same for both patients: 6 months with Amikacin (Am) Bedaquiline (Bdq) Prothionamide (Pto) Paraamino Salicylic acid (PAS) Linezolid (Lzd) Cycloserine (Cs) Pyrazinamide (Z) and 14 months with PAS Lzd Cs Z. The side effects were minor. Bacteriological controls (smears and cultures) after 20 months of treatment are negative to date.
Author(s): Journal of Tuberculosis Research
Year: 2018
Language: English
Region(s): CONGO, THE DEMOCRATIC REPUBLIC OF THE
Resource Type: Journal Articles
Source: Other