Global Plan to End TB 2018–2022: The Paradigm Shift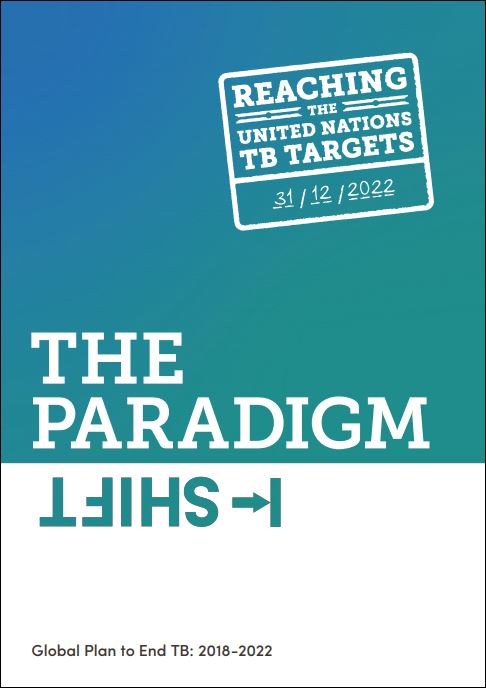 Abstract
: The '
Global Plan to End TB 2018–2022: The Paradigm Shift
' is an updated costed plan and roadmap for a concerted response to tuberculosis (TB), aligned with the United Nations (UN) Political Declaration on TB. This crucial publication, led by the STOP TB Partnership, provides an estimate of the resources needed to achieve the targets and commitments set at the UN High-Level Meeting (UNHLM) on TB in September 2018.
Since the Global Plan to End TB 2016-2020 was released, the TB community has seen the beginning of a seismic paradigm shift, with raised ambitions, an increasingly unified TB community, and growing pressure on governments to fill the gap between ambition and reality.
This has prompted the development of an updated 
Global Plan to End TB 2018-2022
, which describes how stakeholders, partners and country programmes can get on track to end TB by 2030. The plan is focused on the strong political leadership required to achieve the country shares of the global TB targets that were agreed in the UN Political Declaration on TB. The Union contributed to the creation of the 
Global Plan to End TB 2018–2022
, with Scientific Director, Paula I Fujiwara, as the Chair of the Global Plan Task Force, and Paul Jensen, Director of Policy and Strategy, responsible for drafting and editing.
Broadly, the plan contains: an outline of the fundamental shifts required to get a paradigm shift in the global approach to TB; how countries can make progress towards achieving agreed targets; a blueprint for reaching vulnerable populations; best practices for engaging partners including community-based organisations; the role of universal health coverage and the socioeconomic actions required; research and development priorities and access to new TB tools; and overall projections of the annual resources required.
Through support by the Bill & Melinda Gates Foundation, USAID and the Global Fund to Fight AIDS, Tuberculosis and Malaria, the 
Global Plan to End TB 2018-2022
 can now be downloaded in 
English
, 
Spanish
 and 
French
.
Author(s): Stop TB Partnership
Year: 2020
Language: English
Region(s): Global
Resource Type: Guidance and Tools
Source: Stop TB Partnership