Governance of tuberculosis control programme in Nigeria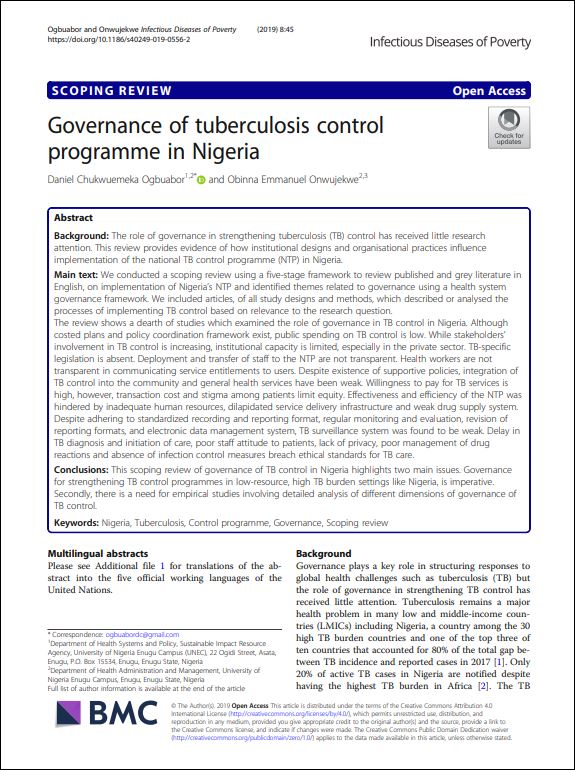 Citation: Ogbuabor, D.C., Onwujekwe, O.E. Governance of tuberculosis control programme in Nigeria. Infect Dis Poverty 8, 45 (2019). https://doi.org/10.1186/s40249-019-0556-2
Abstract: Background
The role of governance in strengthening tuberculosis (TB) control has received little research attention. This review provides evidence of how institutional designs and organisational practices influence implementation of the national TB control programme (NTP) in Nigeria.

Main text
We conducted a scoping review using a five-stage framework to review published and grey literature in English, on implementation of Nigeria's NTP and identified themes related to governance using a health system governance framework. We included articles, of all study designs and methods, which described or analysed the processes of implementing TB control based on relevance to the research question.

The review shows a dearth of studies which examined the role of governance in TB control in Nigeria. Although costed plans and policy coordination framework exist, public spending on TB control is low. While stakeholders' involvement in TB control is increasing, institutional capacity is limited, especially in the private sector. TB-specific legislation is absent. Deployment and transfer of staff to the NTP are not transparent. Health workers are not transparent in communicating service entitlements to users. Despite existence of supportive policies, integration of TB control into the community and general health services have been weak. Willingness to pay for TB services is high, however, transaction cost and stigma among patients limit equity. Effectiveness and efficiency of the NTP was hindered by inadequate human resources, dilapidated service delivery infrastructure and weak drug supply system. Despite adhering to standardized recording and reporting format, regular monitoring and evaluation, revision of reporting formats, and electronic data management system, TB surveillance system was found to be weak. Delay in TB diagnosis and initiation of care, poor staff attitude to patients, lack of privacy, poor management of drug reactions and absence of infection control measures breach ethical standards for TB care.

Conclusions
This scoping review of governance of TB control in Nigeria highlights two main issues. Governance for strengthening TB control programmes in low-resource, high TB burden settings like Nigeria, is imperative. Secondly, there is a need for empirical studies involving detailed analysis of different dimensions of governance of TB control.
Author(s): Daniel Chukwuemeka Ogbuabor, Obinna Emmanuel Onwujekwe
Year: 2019
Language: English
Region(s): NIGERIA
Resource Type: Journal Articles
Source: Other