India National Family Health Survey NFHS-4 2015-16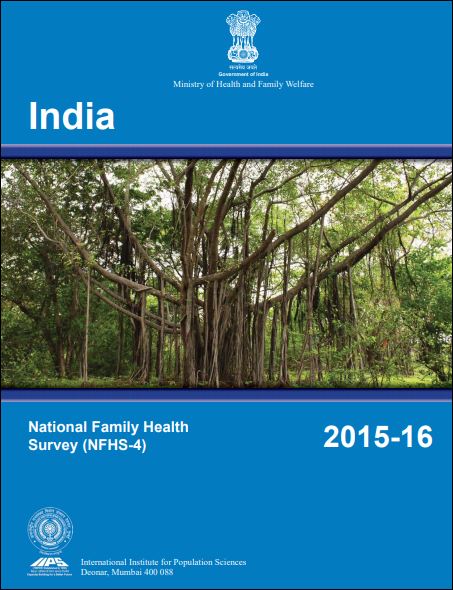 Citation: International Institute for Population Sciences (IIPS) and ICF. 2017. National Family Health Survey (NFHS-4), 2015-16: India. Mumbai: IIPS.
Abstract: The primary objective of the 2015-16 National Family Health Survey is to provide essential data on health and family welfare, as well as data on emerging issues in these areas. The clinical, anthropometric, and biochemical (CAB) component of NFHS-4 is designed to provide vital estimates of the prevalence of malnutrition, anaemia, hypertension, HIV, and high blood glucose levels through a series of biomarker tests and measurements.

The information collected through NFHS-4 is intended to assist policymakers and programme managers in setting benchmarks and examining progress over time in India's health sector. Besides providing evidence on the effectiveness of ongoing programmes, NFHS-4 data will help to identify the need for new programmes in specific health areas.
Author(s): International Institute for Population Sciences
Year: 2017
Language: English
Region(s): INDIA
Resource Type: Reports
Source: Other