Perceived Health System Barriers to Tuberculosis Control Among Health Workers in South Africa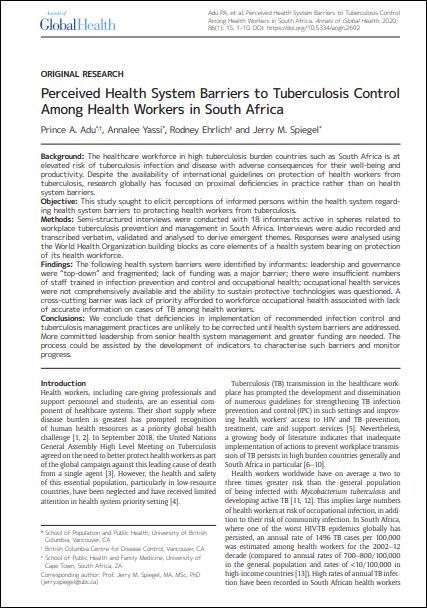 Citation: Adu PA, Yassi A, Ehrlich R, Spiegel JM. Perceived Health System Barriers to Tuberculosis Control Among Health Workers in South Africa. Ann Glob Health. 86 (1): 15. doi:10.5334/aogh.2692
Abstract: Background:
The healthcare workforce in high tuberculosis burden countries such as South Africa is at elevated risk of tuberculosis infection and disease with adverse consequences for their well-being and productivity. Despite the availability of international guidelines on protection of health workers from tuberculosis, research globally has focused on proximal deficiencies in practice rather than on health system barriers.

Objective:
This study sought to elicit perceptions of informed persons within the health system regarding health system barriers to protecting health workers from tuberculosis.

Methods:
Semi-structured interviews were conducted with 18 informants active in spheres related to workplace tuberculosis prevention and management in South Africa. Interviews were audio recorded and transcribed verbatim, validated and analysed to derive emergent themes. Responses were analysed using the World Health Organization building blocks as core elements of a health system bearing on protection of its health workforce.

Findings:
The following health system barriers were identified by informants: leadership and governance were "top-down" and fragmented; lack of funding was a major barrier; there were insufficient numbers of staff trained in infection prevention and control and occupational health; occupational health services were not comprehensively available and the ability to sustain protective technologies was questioned. A cross-cutting barrier was lack of priority afforded to workforce occupational health associated with lack of accurate information on cases of TB among health workers.

Conclusions:
We conclude that deficiencies in implementation of recommended infection control and tuberculosis management practices are unlikely to be corrected until health system barriers are addressed. More committed leadership from senior health system management and greater funding are needed. The process could be assisted by the development of indicators to characterise such barriers and monitor progress.
Author(s): Prince A. Adu, Annalee Yassi, Rodney Ehrlich, and Jerry M. Spiegel
Year: 2020
Language: English
Region(s): SOUTH AFRICA
Resource Type: Journal Articles
Source: Other