Recommendations on digital interventions for health system strengthening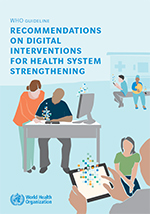 Abstract: The guideline presents recommendations based on a critical evaluation of the evidence on emerging digital health interventions that are contributing to health system improvements, based on an assessment of the benefits, harms, acceptability, feasibility, resource use and equity considerations.

This document aims to strengthen evidence-based decision-making on digital approaches by governments and partner institutions, encouraging the mainstreaming and institutionalization of effective digital interventions.

The guideline urges readers to recognize that digital health interventions are not a substitute for functioning health systems, and that there are significant limitations to what digital health is able to address.

By reviewing the evidence of different digital interventions against comparative options, as well as assessing the risks, this guideline aims to equip health policy-makers and other stakeholders with recommendations and implementation considerations for making informed investments into digital health interventions.
Author(s): World Health Organization
Year: 2019
Language: English
Resource Type: Guidance and Tools
Source: World Health Organization