TB Data-to-Action Continuum in Bangladesh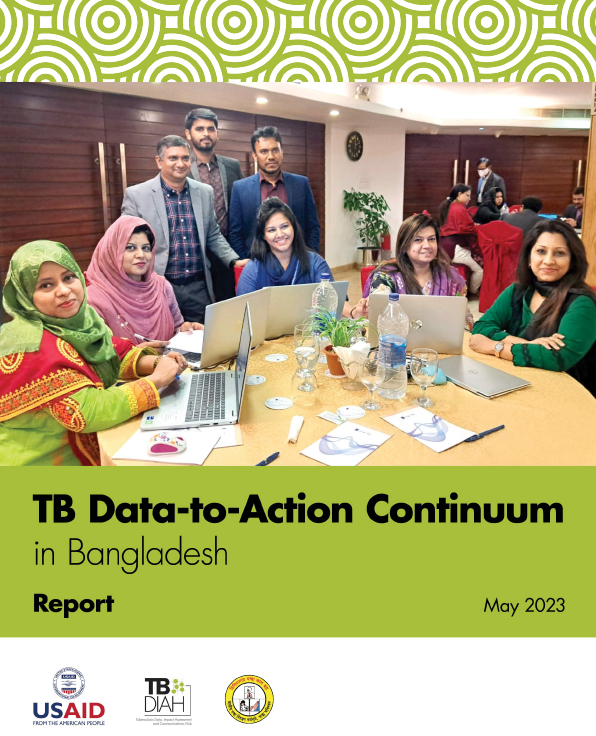 Citation: Chauffour, J., Silver, M., Kibria, M. G. (2023). TB Data-to-Action Continuum in Bangladesh: Report. Chapel Hill, NC, USA: TB DIAH, University of North Carolina
Abstract
: A strong tuberculosis (TB) monitoring and evaluation (M&E) and surveillance system is vital for countries to reach global goals to end TB. The United States Agency for International Development (USAID) leads the U.S. Government's global efforts to end TB. USAID's Global Accelerator to End TB is the Agency's programmatic approach to fight TB. Under the Accelerator, USAID funds the TB Data, Impact Assessment and Communications Hub (TB DIAH) project, which developed a TB Data-to-Action Continuum (D2AC) Toolkit to measure countries' progress and guide efforts to improve their TB M&E and surveillance systems. The D2AC allows national TB programs (NTPs) to precisely gauge the barriers to data use and assess the decision making capabilities of different actors across their health systems. The purpose of a D2AC workshop is to guide the evaluation of data use capabilities to routinely monitor and improve data use attributes associated with TB program management and service delivery at subnational and national levels. The objective is to use the findings from the application of the D2AC Toolkit to evaluate TB M&E and surveillance systems by (1) assessing decision making capabilities of different actors; (2) precisely gauging the barriers to data use; (3) helping NTPs select appropriate interventions in the context of their health systems; (4) developing an implementation plan to apply in the future; and (5) using implementation recommendations for strategic planning purposes and decision making.
Bangladesh was selected as the fourth workshop location for the D2AC. The workshop was held in December 2022 in Dhaka. Thirty-seven participants attended, representing various levels of the Bangladesh health system and other TB stakeholder groups. The D2AC workshop was conducted in-person. The D2AC team applied a mixed methods approach conducted in three parts with the support of the D2AC Toolkit: (1) participants first completed the digital D2AC Toolkit's data collection instrument individually and then in groups; (2) individually and then in groups, participants provided evidence and justification in the data collection instrument for the response options selected; and (3) in groups, participants identified priority actions for post-workshop implementation. A semi-structured questionnaire and focus group discussion method were implemented during the assessment. The D2AC team facilitated the workshop with the use of slides and handouts, and there were several break-out group activities and report-backs. Quantitative data from the 36 (30 individual and 6 group) data collection instruments were automatically generated using the digital D2AC analysis dashboard. The qualitative data—observations, comments, and questions submitted in the 30 instruments and brought up in group discussions and report-backs—were transcribed and analyzed.
This report shares more on the workshop and recommendations.
Shortname: TR-23-513 TB
Author(s): Chauffour J, Silver M, Golam Kibria, M
Year: 2023
Language: English
Region(s): BANGLADESH
Resource Type: Reports
Source: TB DIAH