Meet the Team: Cambodia
TB DIAH works with Cambodia's National Center for Tuberculosis and Leprosy Control (CENAT) to assess the country's capacity for monitoring and evaluation of TB, develop a TB Management Information System (MIS) roadmap, and to build capacity within CENAT in key M&E software applications. Get to know a little bit about our TB DIAH colleagues working in Cambodia, below.
TB M&E Advisor Sao Sarady Ay, M.S.
Lives in: Phnom Penh
What's the most exciting thing about your job?
I love working in the infectious disease area and learning about the pattern of diseases.
What was your dream job when you were a child? What did you want to grow up to do?
When I was growing up my dream was to become a medical doctor. Specifically, a physician or surgeon focused on maternal-fetal medicine to improve maternal and newborn health.
What's one food that always makes you think of home?
One food that always makes me think of home is Amok. This is a dish made from fish, vegetables, and packed in banana leaf and steamed.
What was your first job?
My first job was working as a French translator for a French doctor in the field of HIV-TB. I studied French at the University level. I miss utilizing the language on the job.
Senior M&E Advisor Sophy Chum, MPH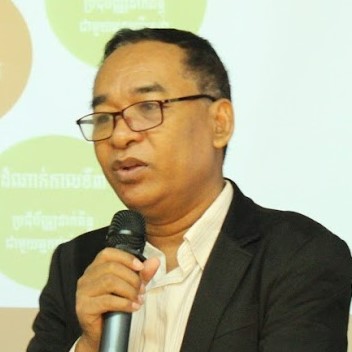 Lives in: Pursat Province
What's the most interesting thing about your job?
I am passionate about working with TB community response and interventions to build monitoring systems.
What was the worst job you ever had? What was the best? What made it so bad/so good?
My best job was in a Global Fund project that I won in 2009. It was a USD 1.2 million community based project focused on child health and TB. This was my favorite job because it allowed me to serve communities in need and have a positive impact on the lives of the poorest who are most affected by TB. The worst experience I ever had professionally was in 2016. I lost a Global Fund project and resources ended, however, local staff were able to transfer to another NGO from the project. This was tough because it's never easy losing staff and funding.
Which living person do you most admire?
I have many role models including the current Australian Country Director, but the person I admire most is my first boss the American Country Assistant Director for my first project in 1992. He taught me a lot. I hold his leadership style, knowledge, strategic thinking and diplomatic skills in high regard.
Which words or phrases do you most overuse?
The phrase and word I use most are "I can try" and "yes." I always say "yes" in meetings and only sometimes say "no." I am trying to learn to say "no" more often and set boundaries.