Union Conference Attendees Share How They Use Tuberculosis Data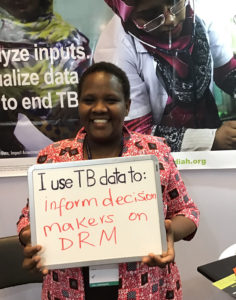 Helping communities understand the impact of tuberculosis.
Analyzing the progress of meeting reporting goals.
Gaining a better understanding of the scope of TB drug resistance.
These are just three of the ways people say they are using tuberculosis (TB) data. The quotes come from attendees at the 50th Union World Conference on Lung Health, held October 30–November 2, 2019, in Hyderabad, India.
They stopped by the exhibit booth run by the TB Data, Impact Assessment and Communications Hub (TB DIAH) project. TB DIAH is funded by the United States Agency for International Development (USAID) and is part of the agency's Global Accelerator to End Tuberculosis. TB DIAH's goal is to ensure optimal demand for and analysis of TB data and the appropriate use of that information to measure performance and inform decision making that will help to end TB.
"We enjoyed connecting with delegates at the Union Conference to learn how they use TB data and to introduce them to our project," said Ann Fitzgerald, MPH, TB DIAH's deputy director and field services manager.
To see more photos from the Union Conference, including how delegates use TB data, visit TB DIAH on Twitter and LinkedIn.