Accelerating Action to End TB: Tuberculosis Report to Congress Fiscal Year 2018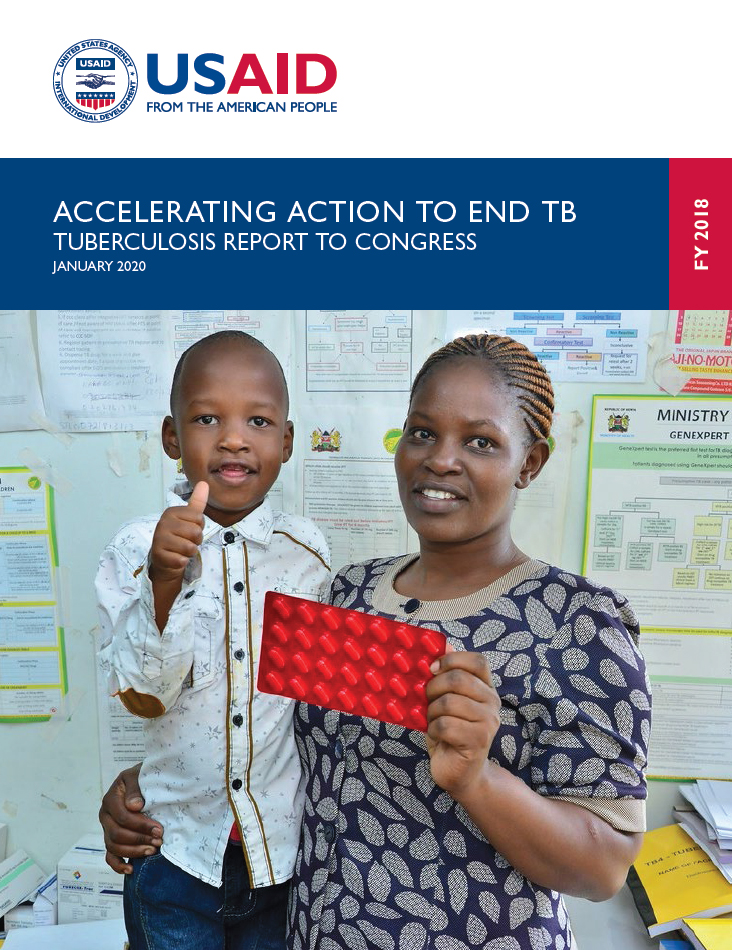 Abstract: This report provides an update on tuberculosis (TB) programming during the 2018 fiscal year.

TB remains the world's deadliest infectious disease: it takes the lives of an estimated 4,000 people each day. Delayed diagnosis, weak laboratory services and health care, high-risk co-morbidities, and the challenges of drug-resistant TB (DR-TB) cause millions of people to suffer and die from the disease each year. To reach the ambitious global goal of ending TB by 2030, governments of the highest-burden countries, donors, faith-based organizations, other non-governmental organizations, the private sector, and other global TB stakeholders must take accelerated action to fight the epidemic.

In Calendar Year 2018, ten million (estimate range, 9.0–11.1 million) people became ill with TB, and 1.5 million (estimate range, 1.3–1.6 million) people died from the disease. Identifying individuals with TB and immediately linking them to effective treatment to prevent further transmission continues to be a major challenge. Of those people who were ill with TB, health providers only reported 69 percent of them to National TB Programs (NTPs), and only 45 percent received diagnostic testing.

In addition, almost a half million people developed a deadlier form of TB that is resistant to the most effective treatment. Drug-resistant TB (DR-TB), which includes multidrug-resistant TB (MDR-TB) and extensively drug-resistant TB (XDR-TB), is more difficult and expensive to diagnose and treat and has become a major challenge for Ministries of Health the world over. Furthermore, DR-TB takes a tremendous physical, social, and economic toll on patients and families, many of whom already struggle in poverty. For these and other reasons, only one in five people with DR-TB starts treatment, and just over half of these individuals are cured.
Author(s): United States Agency for International Development
Year: 2020
Language: English
Resource Type: Reports
Source: United States Agency for International Development