Definitions and Reporting Framework for Tuberculosis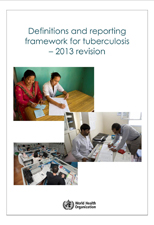 Abstract
: Standardization of definitions and reporting structures has permitted uniformity in the reporting of indicators of performance of national TB control programmes for many years. This document revises previous WHO standard case definitions for TB and drug-resistant TB, the categories used to assign outcomes, and the standard reporting framework for TB.
WHO-approved rapid molecular diagnostics have been widely introduced since the previous definitions and reporting framework were published, and the treatment of drug-resistant TB has been scaled up, necessitating adjustments in the way cases and outcomes are now defined and reported.
The resources was updated in 2014 and 2020. It is also available in
Arabic
,
Chinese
,
French
,
Russian
, and
Spanish
.
Author(s): World Health Organization
Year: 2020
Language: English
Resource Type: Guidance and Tools
Source: World Health Organization