Guide to Develop a National Action Plan on Public-Private Mix for Tuberculosis Prevention and Care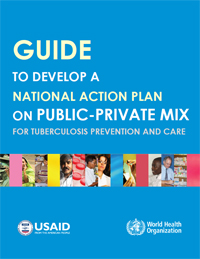 Abstract: The importance of engaging all providers in tuberculosis (TB) care and prevention has been recognized for well over a decade. Over 4 million people with TB are missed each year by health systems and therefore do not get the care they need and deserve. A large proportion of these patients, especially in Asia, are diagnosed and managed in the private sector or unengaged public sector, but not notified to national health systems. Multiple studies have shown extensive use of the private sector, with an average of 50% (in Sub-Saharan Africa) to 80% (in South Asia) of initial visits being in the private sector. Failure to engage with these providers can result in long delays in diagnosis and treatment, resulting in further TB transmission, and poor quality diagnosis and treatment, leading to the development of multidrug-resistant TB (MDR-TB).

The programmatic response to this need has been public-private mix (PPM) for TB prevention and care. Engaging all relevant health care providers in TB prevention and care through PPM approaches is an essential component of WHO's End TB Strategy. PPM for TB prevention and care represents a comprehensive approach for systematic involvement of all relevant health care providers in TB control to promote the use of International Standards for TB Care and achieve national and global targets to end TB. PPM encompasses diverse collaborative strategies such as public-private (between NTP and the private sector), public-public (between NTP and other public sector care providers such as general hospitals, prison or military health services and social security organizations), and private-private (between an NGO or a private hospital and the neighborhood private providers) collaboration. The aims of this work are to identify people with TB symptoms as soon as possible, no matter where in the health system they first present, and to establish mechanisms that allow for efficient and high quality diagnosis and treatment.

This new document – the guide to develop a national TB PPM action plan – is a planning document designed to facilitate the integration of strong PPM components into national TB strategic plans that are supposed to be the basis for Global Fund proposals and national budgeting processes, and will help drive a more comprehensive approach to provider engagement in TB care and prevention.The process highlighted in this document has already been adopted and used in over ten countries, including Bangladesh, Ethiopia, Ghana, Kenya, Malawi, Namibia, Nigeria, Philippines, Tanzania, Uganda and Zambia. PPM action plans were developed in these countries by the national TB programme and key partners on the ground, with the support of a PPM consultant. Some of these plans have been incorporated into national strategic plans and Global Fund proposals already.
Author(s): World Health Organization
Year: 2017
Language: English
Region(s): Global
Resource Type: Guidance and Tools
Source: World Health Organization