Let Our Actions Count: South Africa's National Strategic Plan on HIV, TB and STIs 2017-2022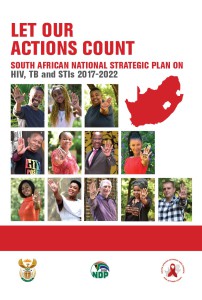 Abstract: The South African National Strategic Plan for HIV, TB and STIs 2017 – 2022 (NSP) was launched by SANAC Chairperson and Deputy President Cyril Ramaphosa under the theme: "Let Our Actions Count". This is a rallying call to action for all South Africans to play their part in the response to HIV, TB and STIs and act as a concerted force, moving in the same direction.

The NSP serves as a roadmap for the next stage of our journey towards a future where these three diseases are no longer public health problems. This plan sets out the destinations – or goals – of our shared journey and establishes landmarks in the form of specific measurable objectives.
Author(s): South African National AIDS Council
Year: 2017
Language: English
Region(s): SOUTH AFRICA
Resource Type: Guidance and Tools
Source: Other