Public–private mix for TB prevention and care: a roadmap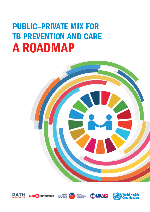 Abstract: In 2017, 3.6 million of the estimated 10 million people with TB worldwide were "missed" by national TB programmes (NTPs). Two thirds of them are thought to access TB treatment of questionable quality from public and private providers who are not engaged by the NTP. The quality of care provided in these settings is often not known or substandard. Closing these gaps and ensuring patient-centred care imply that quality-assured and affordable TB services must be made available wherever people choose to seek care.

To address this issue, the World Health Organization (WHO) and global partners have launched a new roadmap to scale up the engagement of public and private health care providers in efforts to end TB. It builds on a landscape analysis of the private health sector on TB and identifies clear actions needed to expand the engagement of all care providers towards universal access to care.
Author(s): World Health Organization
Year: 2018
Language: English
Resource Type: Guidance and Tools
Source: World Health Organization