Quality of Tuberculosis Services Assessment in Congo: Tools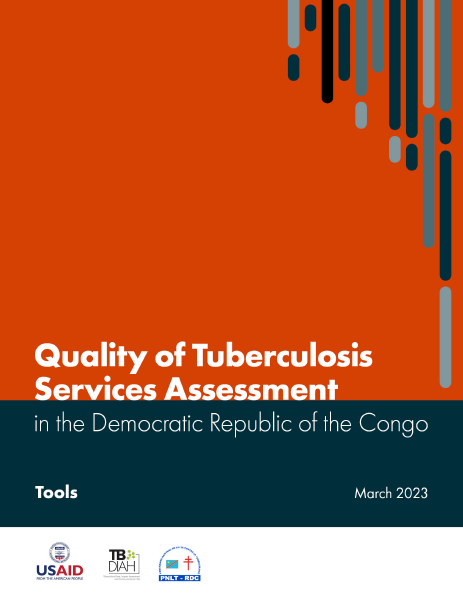 Citation: TB DIAH. (2023). Quality of Tuberculosis Services Assessment in the Democratic Republic of the Congo: Tools. Chapel Hill, NC, USA: TB DIAH, University of North Carolina.
Abstract
: The Quality of Tuberculosis Services Assessment (QTSA) is conducted with the support of four tools: the Facility Audit, the Provider Interview, the Patient Interview, and the Register Review. MEASURE Evaluation—a project funded by the United States Agency for International Development (USAID)—developed these four tools with the assistance of colleagues at USAID. When MEASURE Evaluation ended in 2020, the QTSA portfolio was integrated into the Tuberculosis Data, Impact Assessment and Communications Hub (TB DIAH) project, an associate award of MEASURE Evaluation.
The tools exist in a standard format that is adaptable to any country wishing to conduct a QTSA. For instance, some countries may have different names for their health administrative units (e.g., district, province, or ward) or of their tuberculosis (TB) registers (e.g., TB patient logbook or TB confirmed cases register). The QTSA tools are customized to fit the country priorities and context in which they will be used.
For the Democratic Republic of the Congo (DRC), we added to the Facility Audit and Patient Interview a custom module on COVID-19 given the context of the 2020–2022 pandemic. Furthermore, we also developed an additional tool aimed at community actors who often serve as TB care providers, and we added a TB-focused Data Quality Review (DQR) to the QTSA so as to make the best possible use of the important human and financial resources required and expended for these types of country-wide surveys in the DRC.
This document presents only the QTSA/DQR tools adapted for use in the DRC. It provides detailed information about the structure and content of the tools. The standard (non-customized) QTSA Tools and more information on the QTSA purpose, methods, and results—found in the country QTSA reports, including the reports about the DRC QTSA and DQR—are available here:
https://www.tbdiah.org/assessments/quality-of-tuberculosis-services-assessments/
The French version of the tools, which was the language used for data collection in the DRC, are also available at:
https://www.tbdiah.org/resources/publications/enquete-sur-la-qualite-des-services-de-tuberculose-en-republique-democratique-du-congo-outils/
Shortname: TL-23-101 TB
Author(s): TB DIAH
Year: 2023
Language: English
Region(s): CONGO, THE DEMOCRATIC REPUBLIC OF THE
Resource Type: Guidance and Tools
Source: TB DIAH