Supporting Tuberculosis Control in Vietnam: Building bridges to reduce TB burden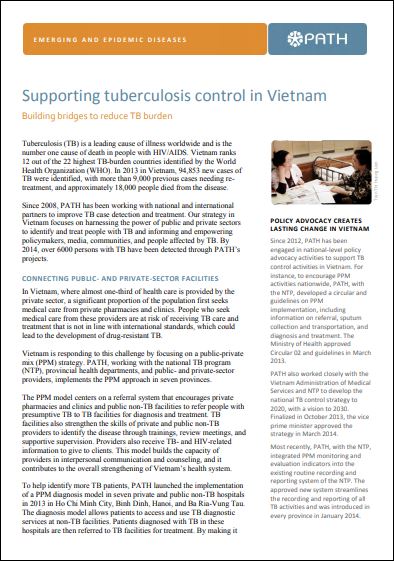 Abstract: Tuberculosis (TB) is a leading cause of illness worldwide and is the number one cause of death in people with HIV/AIDS. Vietnam ranks 12 out of the 22 highest TB-burden countries identified by the World Health Organization (WHO). In 2013 in Vietnam, 94,853 new cases of TB were identified, with more than 9,000 previous cases needing retreatment, and approximately 18,000 people died from the disease.

Since 2008, PATH has been working with national and international partners to improve TB case detection and treatment. PATH's strategy in Vietnam focuses on harnessing the power of public and private sectors to identify and treat people with TB and informing and empowering policymakers, media, communities, and people affected by TB. By 2014, over 6000 persons with TB have been detected through PATH's projects.
Author(s): PATH
Year: 2014
Language: English
Region(s): VIET NAM
Resource Type: Briefs
Source: Other